|
Update
Yesterday, Aaron celebrated his 1-week birthday. Here's a better picture of our little guy: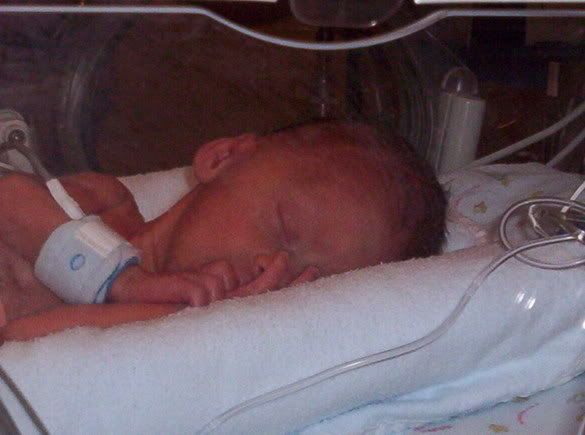 We have moved to St. Joe's hospital, which is a Level 2 NICU, as of yesterday. We went about a week earlier than expected. Aaron is back to his birth weight, although the move was a bit traumatic and knocked his temp down and caused him to shed 5 grams. He's breathing totally on his own and self-recovers from any "spells". Basically, that means he remembers to take deep breaths whenever he gets tired from the hard work of breathing. He is only being fed nutrients through his IV and I suspect that will come off once he starts nursing, which could be as early as next week.
Christine is also doing well. Her recovery is progressing from her c-section and she WILL be driving next week (Christine is not a good passenger). We have been blessed with a number of friends and family who have been able to pick her up and drop her off during the past week, and we already have transportation arranged through next week. We've also started arranging home care for Aidan once I go back to work. That is starting to come together, but I am not sure that I will get to work at home for 2 days each week. That is something we are kinda counting on, so please add that to your prayer list.
We have been so pleased with the prayers and encouragement we have received from friends and family and ask that it continue. We will keep the updates coming.
Brian, Christine, Aidan and Aaron